M-41
Maximum Torque
41 Nm (363 in-lb)
Output Speeds
40, 60, 80, 100, 120 rpm
Control

–

Digital on-off (one DI & one DO)


–

Analog modulating (one AI & one AO),
‧ Analog Input: 0-20mA, 4-20 mA, 0-5V, 1-5V, 0-10V, 2-10V
‧ Analog Output: 0-20mA, 4-20mA, 0-5V, 1-5V, 0-10V, 2-10V
Protocol
Modbus RTU RS485, Profibus DP V0
Operation Condition
Ambient Temperature:-20°C to +70°C (-4°F to +158°F)
Relative Humidity: 5% to 95%
Power Supply Voltage

Multi-Voltage: 220VAC-1 PHASE /

220-415VAC-3 PHASE @50/60 Hz

Duty Type
S2-15 min.
Enclosure
IP68 (8 m, 120 hrs) according to IEC 60529
Motor
Brushless DC motor, insulation class F
The torque and running speed for opening and closing a valve can be adjusted independently
without reducing the output torque.
Position Indication
LCD digital display
Limit Switching
Digital limit switching
Position Sensing
Incremental Encoder
Gearing
Worm shaft, worm gear and planetary deceleration device
Lubricant
75W80
Battery
Non-rechargeable「Alkaline battery」: AA
Lithium battery: LS 33600
(Batteries are not included with the actuator for the shipment.)
Conduit Entry
Standard:one 1-1/2"NPT & two 1"NPT
Option:one M40x1.5 & two M25x1.5 (Adaptors )
Digital Output
Option:4 sets of contact, maximum 8 sets of contact
Five speed variable speed drive that allows the actuator to operate at five different speeds without reducing the output torque
The high efficiency BLDC motor technology enables the adjustment of output torque and speed in both directions.
Torque overload protection provided at each end of stroke.
Double-sealed and IP68 weatherproof.
Patents obtained in UK, USA, Taiwan, China, Japan, and Germany.
Setting, monitoring, and diagnosing are possible via local control and a Bluetooth-compatible APP.
Available communication solutions: Modbus RTU RS485, Profibus DP V0.
Temperature of motor and electronic components is monitored to ensure optimal performance and safety.
Non-intrusive design allows setting and adjusting settings without cover removal.
Multi-language LCD display incorporated with reed switches that allow non-intrusive setting makes operating, setting, adjusting convenient.
Automatic phase-correction and phase-loss protection.
Instantaneous reversal protection.
Four levels of password protection hierarchical prevent unauthorized changes.
G201 Multi-turn Gearbox
Compatible
actuator model
The speed of actuator
combined with gearbox
Non-rising
Rising
Flange
Maximum
output torque
Maximum stem
acceptance diameter
Weight
Maximum
output thrust
Maximum stem
acceptance diameter
Weight
rpm
Nm
in-lb
mm
kg
lb
kgf
lbf
kN
mm
kg
lb
ISO 5210
M-41
13, 20, 27, 33, 40
123
1090
40
22
48.5
7140
15744
70
32
25
55.1
F12
M-55
10, 15, 20, 25, 30
165
1460
M-80
7, 10, 13, 17, 20
240
2125
G202 Multi-turn Gearbox
Compatible
actuator model
The speed of actuator
combined with gearbox
Non-rising
Rising
Flange
Maximum
output torque
Maximum stem
acceptance diameter
Weight
Maximum
output thrust
Maximum stem
acceptance diameter
Weight
rpm
Nm
in-lb
mm
kg
lb
kgf
lbf
kN
mm
kg
lb
ISO 5210
M-41
8, 12, 16, 20, 24
205
1815
45
25
55.1
10200
22491
100
36
27.5
60.6
F14
M-55
6, 9, 12, 15, 18
275
2435
M-80
4, 6, 8, 10, 12
400
3540
G203 Multi-turn Gearbox
Compatible
actuator model


The speed of actuator
combined with gearbox
Non-rising
Rising
Flange
Maximum
output torque
Maximum stem
acceptance diameter
Weight
Maximum
output thrust
Maximum stem
acceptance diameter
Weight
rpm
Nm
in-lb
mm
kg
lb
kgf
lbf
kN
mm
kg
lb
ISO 5210
M-41
5.7, 8.6, 11.4, 14.3, 17.1
285
2520
 
 
 
 
 
 
 
 
 
 
M-55
4.3, 6, 9, 11, 13
385
3410
60
32.5
71.6
15300
33737
150
44
36
79.4
F16
M-80
2.8, 4, 6, 7, 8.6
560
4960
M-100
2.1, 3, 4, 5, 6.4
700
6200
A. Non-Rising Stem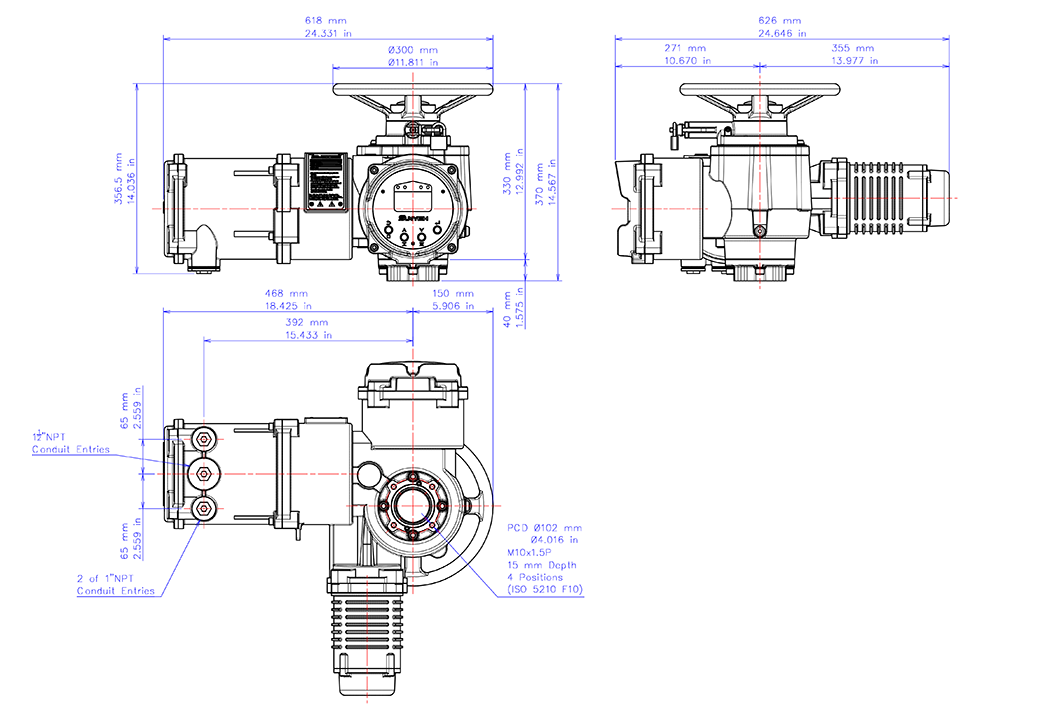 B. Rising Stem